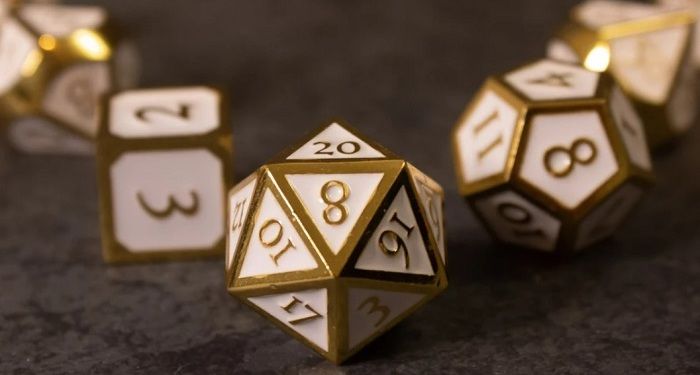 This content contains affiliate links. When you buy through these links, we may earn an affiliate commission.
When I was introduced to the world of Dungeons & Dragons many moons ago, no one warned me about the risk of DICE HOARDING. It is easy to fall in love with fantastical worlds filled with magical creatures and ridiculous adventures. I can spend hours pouring over books, both in the real world and in The House of Knowledge. But that would be nothing compared to the days spent circling any gaming convention, trying to find the perfect D&D dice set for my next campaign. I may or may not have been That Person who chose their character purely based on the matching dice set. I may or may not be That Person who has backup dice when recovering from multiple Critical Hit betrayals (with a suitable dice jail where they can think about their actions). And I most certainly am not the person who dares to mix their dice sets. What kind of monster are you?!
However, if you are reading all this and are unsure what I am talking about, fellow Book Rioter Alice has a great guide to help you. Alice has provided some simple steps on How to Create an Awesome D&D Character.
Or you can let the dice choose the character for you. What could go wrong with that?
---
Once you have the right D&D dice set to match your character, make sure to find a suitable case to protect them. You can find a range of pouches, tins, leather cases, and boxes available on Etsy and online. My personal absolute fave is this wooden engraved box with a very sweet and neat magnetic closing system to snap in place. My 16-year-old son uses it to protect his Artificer-style Obsidian dice with circuitry detailing. Both were purchased from Level Up Dice, found online here.
For more gift ideas for D&D players, check out these 10 Delightful Dungeons and Dragons Gifts. You can also find The Best Dungeons and Dragons Accessories for Your Next Campaign here.